We are studying molecular mechanisms of chordate evolution and adaptation through comparative functional analysis of developmental genes in the "living fossil" amphioxus and a variety of frog spieces. We are also studying genomic and epigenomic mechanisms involved in organ regeneration and genetic diseases by generating a variety of genetically modified pipid frogs using leading-edge technologies, such as high-throughput transgenesis and genome editing.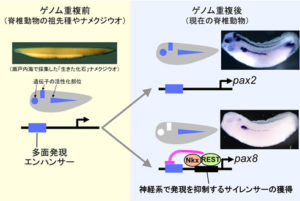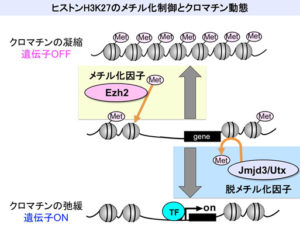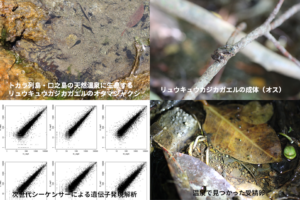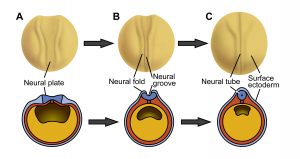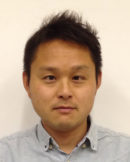 Associate Prof.: Takeshi Igawa Ph.D.
リンク
Profiles of Faculty and Research Scholars*

Technical Staff, Nanoka Suzuki
*Contact address, educational and research activities of the staffs are referable in Profiles of Faculty and Research Scholars.
研究指導学生:研究課題
Nusrat Hossain(D3):Development of?Xenopus?as a high-throughput modeling system for human diseases caused by non-coding mutations
Bagus Priambodo(D1):Identification of genomic diversity and selection in "hot-spring frog", Buergeria japonica
Ou Yushi(M2): Functional analysis of craniofacial disease genes using Xenopus as a model system
Yusuke Sakaguchi(M2):Analysis of the evolution of cis-regulatory mechanisms that led to the evolution from monocular to binocular
Mana Yoshida(M2):Mechanisms of activation of regenerative programs by inflammatory signals via epigenetic regulation
Kento Shiraga(M2):Identification and functional analysis of genes related to high temperature tolerance in the Ryukyu bell-ring frog
Yuka Asaeda(M1):Searching for genetic variation in environmental adaptation in the Ryukyu bell-ring frog.
Hinako Kato(M1):Validation of the genetic mutations detected in patients with premature cranial suture fusion.
Hinayo Ogino(B4):
Narue Kunishige(B4):
We are using dry and wet leading-edge technologies in our research, which include next-generation sequencing, comparative genomics, high-throughput transgenesis, genome editing, bio-imaging with fluorescent proteins, chromatin immunoprecipitation, etc. Feel free to contact us, if you are interested in leading-edge genome evolution studies, molecular ecology of wild amphibian species, or basis of human genetic diseases.